Welcome To The IMGCA
| | | |
| --- | --- | --- |
| | | Read this special message from the IMGCA Founder and President, Bill Cole, MS, MA. |
The mission of the International Mental Game Coaching Association is to advance the research, development, professionalism, and growth of the discipline of mental game coaching worldwide.

The IMGCA was the world's first mental game coaching membership organization, created January 1, 2006, and is the only national or international mental game coaching membership organization in the world today.

The IMGCA is comprised of individuals and institutions interested in the mental aspects of sports, movement, health, fitness, business, the arts, achievement, work-life balance, stress control, and peak performance. IMGCA members come from all walks of life, and have varied backgrounds in sports performance, coaching, teaching, writing, business and consulting. They are professionals, students, parents, and interested observers of the mental game.

IMGCA membership includes 22 benefits including listings in our Coach Finder and Speakers Bureau pages, discounts, and access to exclusive articles and videos.

Advanced Standing Certification Credit For Degrees And Work
IMGCA offers advanced standing for holders of non-IMGCA certifications. If you hold a certification in fields similar to psychology or education, and others, IMGCA will explore the options for advanced standing with you. Certifications in hypnosis, NLP or other similar areas usually qualify also.

Challenge Exams For Fast-Track Certification
You can choose to take a challenge exam to pass any IMGCA certification level. You would simply pay the appropriate fees and take the exam. You would immediately have full 24-7 access to all materials in the IMGCA Private Back Room, and you would completely bypass any classes, homework and fieldwork. When you pass the challenge exam, you would be certified at that particular level, and you'd enjoy all 33 IMGCA Certification Benefits.

Bring The IMGCA To Your Town
The IMGCA can create a specialized Mental Game seminar, workshop, certification training or speaking program for your town, for small groups, teams or large audiences. This could be held at a club, health center, college or university, local school, tennis or golf club, corporation or other venue. For more details, for schedule availability and to determine topics, please contact the IMGCA.

Resources
See our comprehensive list of international resources in the mental game and related areas, including a selection of video resources.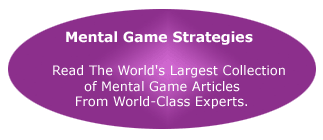 IMGCA Accreditation
The International Mental Game Coaching Association now offers accreditation to organizations, businesses and programs that have mental game training, mental game content, or a mental game vision of high excellence, best practices and professional standards.

Learn more about IMGCA Accreditation.
Team, Group and Association Membership Discounts
Get substantial discounts on IMGCA membership fees for associations, teams and groups when multiple people join. Details.

Discover

Specialized Certifications
IMGCA Certification
Get The Competitive Professional Edge!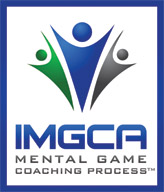 The International Mental Game Coaching Association certifies individuals at four levels as a Certified Mental Game Practitioner. The IMGCA courses of study include academic work and fieldwork, written work and a final project or examination. Candidates who successfully complete certification receive 33 premium benefits as long as they maintain annual certification. They also have the right to call themselves IMGCA Certified and display the IMGCA certification logo at their level of certification. The IMGCA certification training process takes place by phone, web and email. A private backroom area of the website is available to certification students and graduates, containing numerous resources including over 120 hours of recorded audio teleclasses and a library of over 500 videos.

See a list of 15 compelling ways IMGCA certification can give you that special edge (opens in new window - please close that window when finished).
What Our Coaches Say
"The IMGCA mental game coach certification program is simply fantastic and has had a tremendous effect on my mental game."
–Kulwant Singh
Level I IMGCA Certified Mental Game Instructor
Ajmer, India

Read complete testimonial

"...After Level I training I am so confident I feel I could become the mental game coach of a major pro sports team."
–Dr. Lingappa S. Yuvaraj, St. Lucia, West Indies
Level I IMGCA Certified Mental Game Instructor

Read complete testimonial

"... one of the best investments I have ever made. You can give a gift to yourself to reach your full potential! Go for it."
–Ing. Radek Sefcik, Slovakia
Level IV IMGCA Certified Mental Game Professional Coach

Read complete testimonial
Join The IMGCA
Interested in the mental game? As an athlete? Student? Coach? Consultant? Teacher? Researcher? Psychotherapist? Sport Psychology consultant? Mind-body practitioner? Administrator? Sports Official? Media Member? Movement Specialist? Dancer? Dance instructor? NLP and hypnosis professional? Personal and professional coach? Chiropractor? Physician? Counselor? Psychologist? Health and Fitness Professional? Trainer in the martial arts?

The IMGCA has membership categories for everyone, and IMGCA membership is open to anyone, in any country.